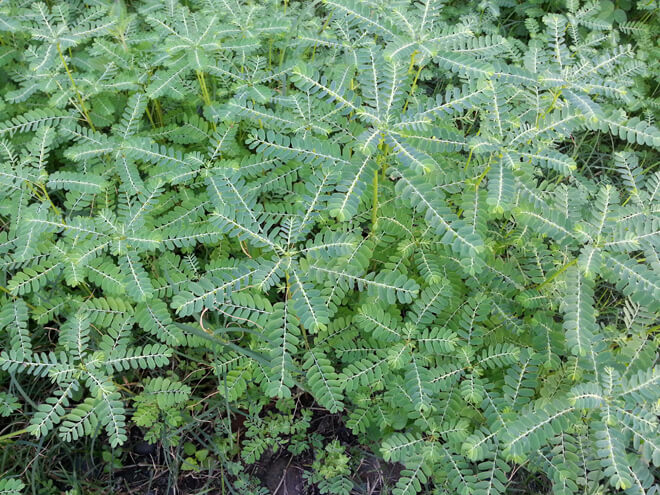 Phyllanthus niruri (Sampa-sampalukan) consists of active phytochemicals, flavonoids, alkaloids, terpenoids, lignans, polyphenols, tannins, coumarins and saponins.
Niruside, a specific compound present in Sampa-sampalukan, was identified to have HIV-1 Reverse transcriptase inhibition thus making it a potential anti-HIV agent. Another compound also present in Sampa-sampalukan is ellagic acid which possesses aldose reductase inhibition making it useful for diabetes. Other constituents like rutin and quercetin have anti-inflammatory and analgesic activity while geraniin has anti-allergy and ACE inhibitory activity.
Studies showed that Sampa-sampalukan extract has antioxidant, hepatoprotective, gastroprotective, anti-hepatits B, anti-HIV, anti-urolithiatic, antidiabetic, anti-carcinogenic, and lipid lowering activities.
Seed-under-leaf/Sampasampalokan
Other Names:
Chanca piedra, Stone breaker, Gale of the wind
Other Traditional Medicinal Uses:
Antioxidant
Anti-inflammatory
Anti-urolithiatic
Antihypertensive
Antihyperglycemic
Antihyperlipidemic
Hepatoprotective
Antiviral
Antihyperuricemic
Antipyretic
Analgesic
Stomach tonic
Antispasmodic/Smooth muscle relaxant
Cough and cold remedy
Antiplasmodial/Antimalarial
Reduces cancer risk/Anti-tumor
References:
http://www.scielo.br/scielo.php?pid=S1677-55382010000600002&script=sci_arttext&tlng=es http://onlinelibrary.wiley.com/doi/10.1211/jpp.58.12.0001/full
http://www.sciencedirect.com/science/article/pii/S0308814605000130 http://www.sciencedirect.com/science/article/pii/S0378874109002621
https://www.researchgate.net/profile/Adair_Santos/publication/13621182_A_Review_of_the_Plants_of_the_Genus_Phyllanthus_Their_Chemistry_Pharmacology_and_Therapeutic_Potential/links/0f3175392039c42d65000000.pdf
https://www.ncbi.nlm.nih.gov/pubmed/12599017 http://pubs.acs.org/doi/abs/10.1021/np9600560 https://link.springer.com/article/10.1007/s00240-006-0065-1
http://www.sciencedirect.com/science/article/pii/S037887410400385X https://link.springer.com/article/10.1007/s00240-004-0432-8
http://apocpcontrol.com/paper_file/issue_abs/Volume10_No6/1089_c_Sharma.pdf http://www.sciencedirect.com/science/article/pii/S0378874102001368
http://www.sciencedirect.com/science/article/pii/S0308814608005128 https://tspace.library.utoronto.ca/handle/1807/21245
http://online.liebertpub.com/doi/abs/10.1089/aid.1992.8.1937 http://www.pnas.org/content/84/1/274.short https://www.ajol.info/index.php/ajb/article/view/77801
https://www.ncbi.nlm.nih.gov/pubmed/21176271 http://www.academia.edu/21967383/Phyllanthus_niruri_as_a_promising_alternative_treatment_for_nephrolithiasis
https://www.clearkidneys.com/phyllanthus-niruri-the-miracle-plant/ http://www.scielo.br/scielo.php?script=sci_arttext&pid=S1677-55382010000600002