Herbarium and Medicinal Herb Museum Soon to Rise at The Quiet Place Farm Resort
From its humble beginnings in 2010 as an internship project for 3rd year students of Philippine Science High School - Iloilo Campus, Herbanext's collection of medicinal and aromatic plants (MAPs) at The Quiet Place Farm Resort has gradually expanded in size and diversity. Starting with less than 50 MAPs, the botanical collection called Herbee's Garden has already exceeded the 200 species mark. Herbee's Garden could very well be the biggest private collection of medicinal plants in the Philippines today. It is a must-see place for those wanting to learn more about the incredible biodiversity of medicinal plants in the Philippines, its cultivation, and its application to health and wellness.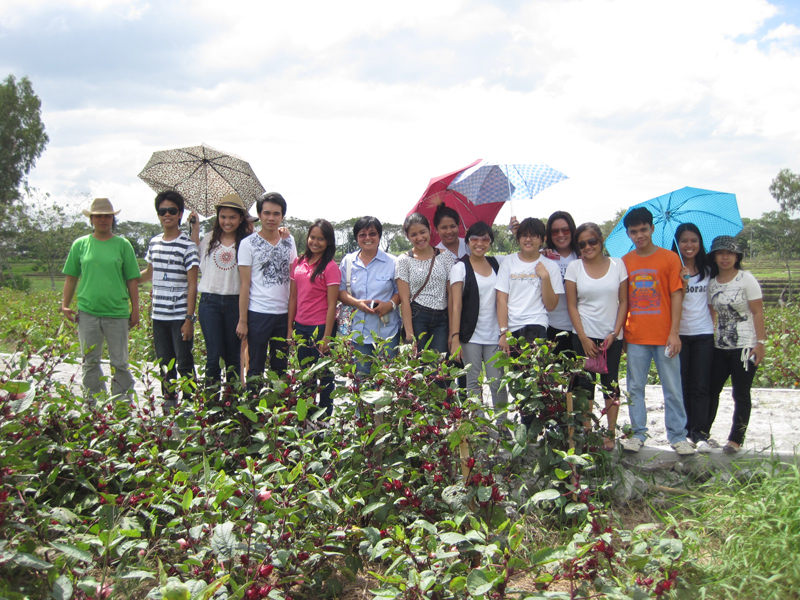 Visiting one of the roselle farms of Herbanext at Salong, Bago City
This summer, a new batch of Philippine Science students guided by professional botanists from the University of the Philippines in the Visayas (UPV) will be laying the ground work for the establishment of a herbarium at The Quiet Place Farm Resort. The goal is to establish a reference herbarium and a formal ethnomedicinal garden of native Philippine medicinal plants as well as introduced species for the benefit ecologists, botany students, natural products researchers, and industry practitioners in Negros Island and neighboring Panay Island. The project intends to also highlight the endemic plant species from the threatened forests of Negros. Plans are already on the way for the building of an indoor museum within the year that will highlight the many valuable and versatile applications of MAPs, such as in the fields of medicine, health foods, animal husbandry, horticulture, cosmetics, and personal care.
Because the Philippine islands developed separately from the rest of mainland Asia, a great many unique flora (and fauna) can only be found in the country and nowhere else in the world. An estimated 65.8% of vascular plant species In the Philippines are endemic, which is much higher than in neighboring countries like Indonesia (23%), Malaysia (17.4%), Thailand (23.6%), and Vietnam (7.6%). In comparison, mega-countries like China and India which have both tropical and temperate zones, can boast of only 31.1% and 30.7% endemicity, respectively. In all, the Philippines has a total of at least 1,500 endemic medicinal plants. Adding to the unique native flora of the Philippines are numerous naturalized exotic medicinal plants from South America and Europe during the 250 years of existence of the galleon trade.
UPV biology students visit The Quiet Place.
Last January 28, 60 biology students from UPV taking up Botany 182 (Economic Botany) under Prof. Severa Fe Katalbas visited Herbee's Garden at The Quiet Place.
Here are some excerpts from their report about the field trip…
"… the tour was not only fun but was also full of challenge because we were surprised when Mr. Cruz announced that they had prepared 50 medicinal herbs for us to name. What was more exciting was that we were allowed to touch, smell, and taste some of the herbs plus the group that will get the highest score will be given a prize." - Kristine Marie Almojuela

"…the main learning I got from the activity is that education is not only limited to the four corners of the classroom. I admit that I am your typical Biology student – a person contented with just sitting down, listening and jotting down the teacher's lectures. But this new teaching approach I have just encountered is not bad. In fact, I highly commend it. It actually broadened my perspective of plants and enlightened me on the different paths a B.S. Biology graduate can take." - Naira Mitz Ampuan

"Through this trip, I was able to learn how wealthy our country is in terms of different types of medicinal plants that can cure most of the chronic illnesses of humans." - Chona Mae Balinas
"It is good to see how the lessons we have learned in the University, especially in our laboratory classes in Botany and Microbiology (our Plant Taxonomy and some lessons in Microbiology such as methods in chromatography) are being applied in making and testing products in the Herbanext factory." - Jill Briones

"The efforts of Mr. Cruz and his team to bring not only the benefits of natural healing to the people, but also to turn developments in science and technology into groundbreaking innovations that help solve medical problems and create entrepreneurial opportunities for Filipinos is a very interesting and moving story." - Raisheine Joyce Dalmacio

"In Herbanext, we learned to appreciate the plants that we never laid eyes on before but were actually growing under our noses and are actually important medicinal herbs. We also saw the actual vines, trees, shrubs and grasses from which we derive food and medicine. I was able to identify more plants in the exam given than in our taxonomy class years back. Also, through the trip we became aware of the plants that are economically significant and the products that can possibly be derived from them." - Angela Saldajeno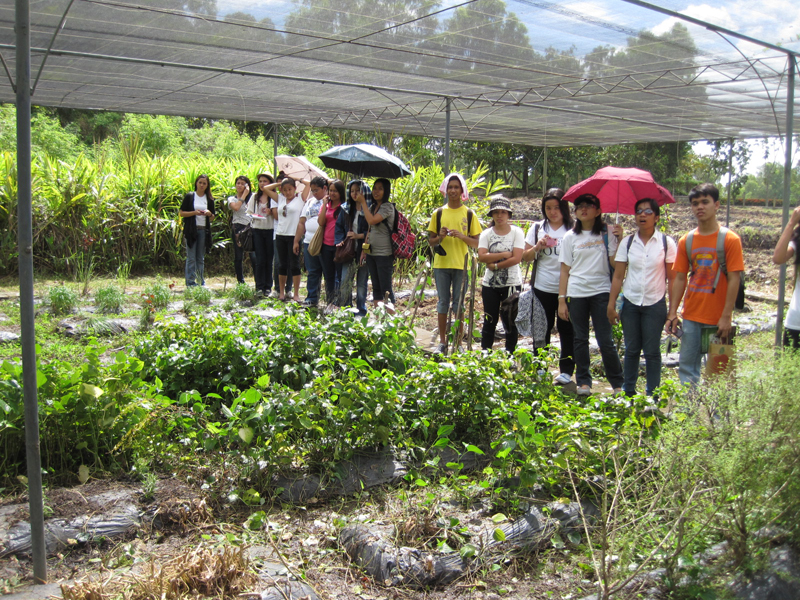 Touring Herbee's Garden at The Quiet Place Farm Resort

Students identifiying selected 50 medicinal plants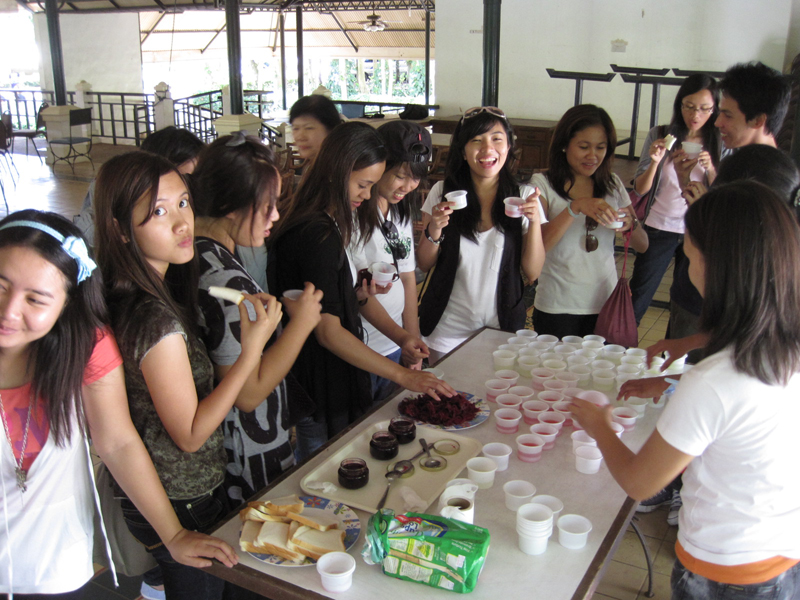 Tasting various roselle and lemongrass products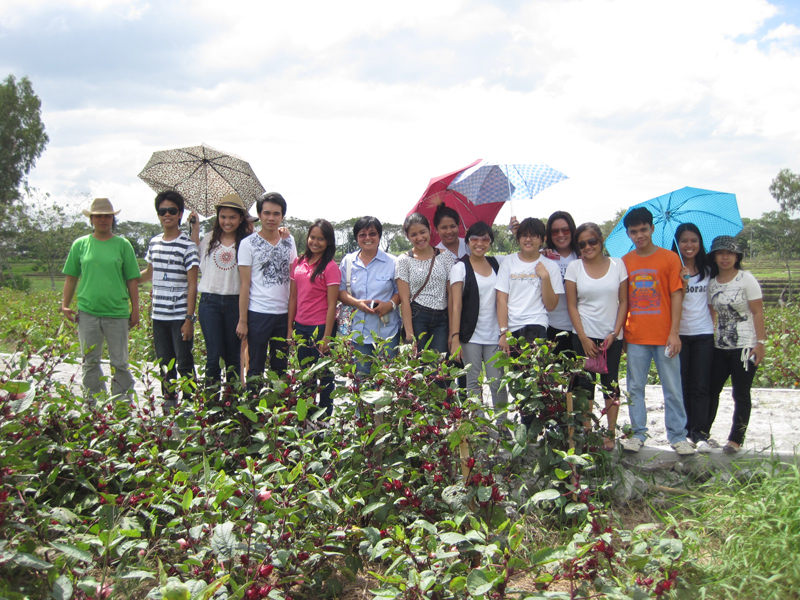 Visiting one of the roselle farms of Herbanext at Salong, Bago City